Our Pass Rate
We pride ourselves on being a training school with high pass rates for our caregiver and assisted living manager certification programs in the state of Arizona. With a 95% pass rate for Caregivers and 96% pass rate for Managers, we prepare you for success!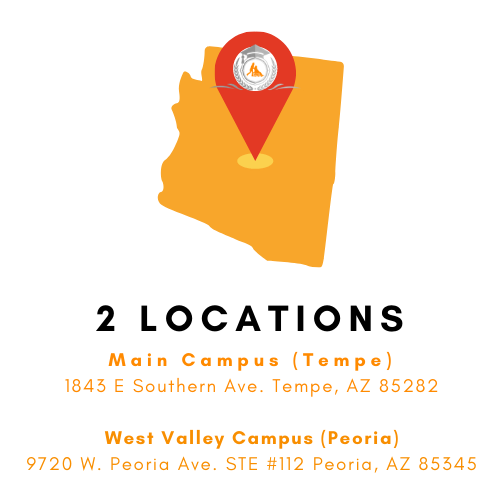 The ALTS Advantage
Assisted Living Training School has provided quality caregiver and manager training since 2001.
2 Campus Locations – Assisted Living Training School has 2 campus locations in Arizona. Tempe, AZ and Peoria, AZ. Find your campus today!
Open Enrollment – When you are ready to begin your training, we are ready too. With open enrollment, you decide when to begin.
Personalized Training – We customize our curriculum to suit your learning style, your schedule, and your needs. If there is anything we can do to make your learning experience better, let us know.
March 2020 Update: Due to COVID-19 training programs are being conducted online until announced otherwise. 
Our students create their own schedules. Students can come in as little as one time a week to accommodate for their busy schedules, as long as they meet NCIA rules and regulations. We understand that not everyone can be a full-time student, so we want to provide the opportunity to allow anyone to be a student and graduate at their own pace.
We focus on simplified learning that can accommodate all types of learning styles. We offer student advisement, one-on-one tutoring, group review classes, and extra practice exams to well prepare our students. We do our best to ease students who suffer from test anxiety and/or fear of learning in a group setting by creating individualized programs to suit their needs.
Assisted Living Training School promotes a family oriented environment. We want our students to feel welcome and eager to learn.  We pray and cheer for our students to succeed.
" I have been helped by staff since I first called for information. The instructors are very kind and informative. I felt comfortable in every step of the way. The courses are easy but they are informative as well. I was given everything I needed to pass the certification test. My schedule was not a problem for me to complete the program smoothly.

Jordan H.
I rate everything a 10! I love the flexibility and resources that was given to achieve a passing grade.

Michelle W.
I am very satisfied with the training program, information and subject matter. Classes are very helpful for the right ethics. Highly recommended to others. Congratulations and I am proud to be one of your students. Thank you!

Ernesto D.
Keep it up! The materials is very helpful and staff are very nice. I would like to say thank you for all your help.

Francine N.
The training is super flexible being an online program. I have learned a lot from the online training that I have already applied to my day-to-day working.

Kayla H

Online Caregiver Training