The holidays are fast approaching! Amongst deciding how to decorate, we must face the reality that the holidays this year will not be quite the same. COVID-19 put a dent into our 2020 plans and forced us to adapt to a "new normal". So with family and holiday plans, what do we need to know about visitations in the coming months?

Arizona Department of Health Services has revised their guidance document on November 10, 2020 to help long term care facilities coordinate requirements for visitation. This revision includes two components to resume visitation. The first is mitigation strategies, and the second the level of spread. By adopting benchmarks, Arizona counties can better assess what precautions to take based on the community spread.

Above is outlined what AZDHS defines levels of spread. It is important to be aware that the level of spread can change frequently. Be sure to stay informed of when it changes, so that proper policies and procedures can take effect.
To properly see what level of spread your county has, please refer to the image below and description of how to read the daily summary provided by AZDHS.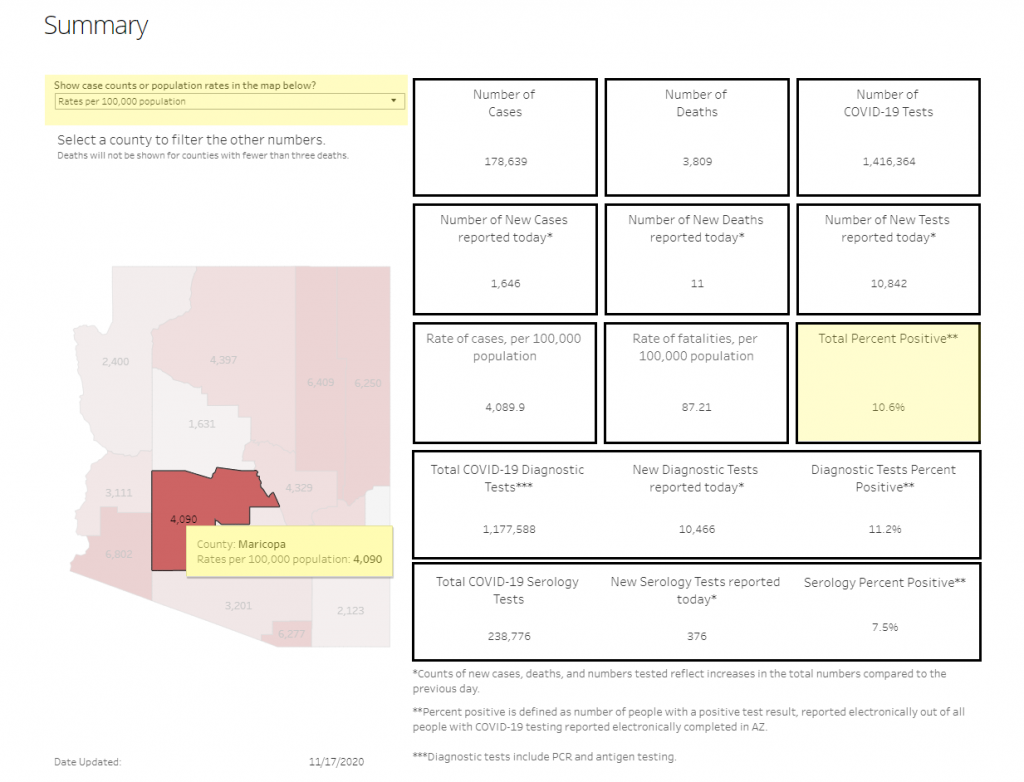 How to determine what level of spread your county has?
1.) Visit AZDHS – Data Dashboard
2.) Under summary, choose "Rates per 100,000 population" in drop down menu.
3.) Choose your county on the map.
4.) Look at "Total Percent Positive". This percent determines the level of spread.
Less than 5% = Minimal Spread
Between 5% and 10% = Moderate Spread
More than 10% = Substantial Spread
What visiting precautions do you need to take?
Now that you have determined the level of spread, see below what AZDHS requires for visitors (page 6 of congregate visitation document).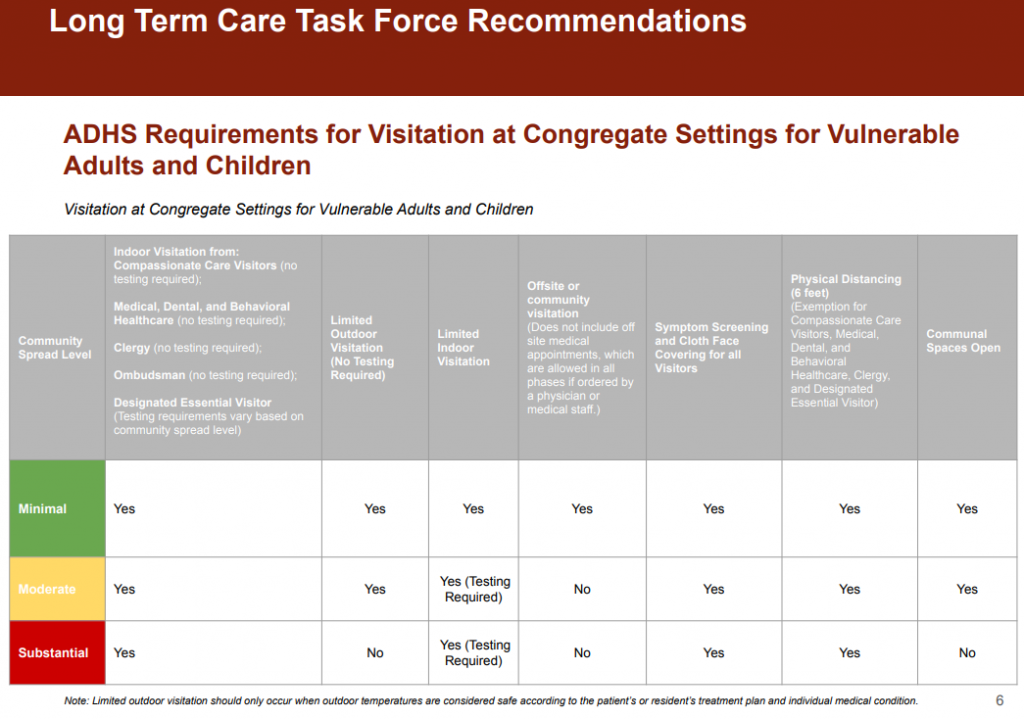 Outdoor visitation can occur in both "minimal" and "moderate" phases without a negative COVID-19 test. The parameters around outdoor visitation should be governed by each facility, through policies and procedures to cover factors such as length of visit, appropriate temperature for each resident, time of visits, number of visitors, etc.
However, if a county is still in "substantial" spread, then testing is required regardless of the visitation being outside or inside.  While facilities must allow visitation at least to the level prescribed in guidelines and the table above, they may set their policies on:
Day, time, and location of visit
Number of visitors per visit
Length of visit
Total number of visits permitted per day
Visits by appointment only
Visitor log for contact tracing purposes
Additional precautions determined by the facility (ex. PPE)
Do your due diligence to assess the risk, and have the proper policies in place to prevent the risk of infectious diseases, and especially COVID-19. For more visitation guidance please refer to COVID-19 Guidance for Visitation at Congregate Settings for Vulnerable Adults and Children provided by Arizona Department of Health Services.